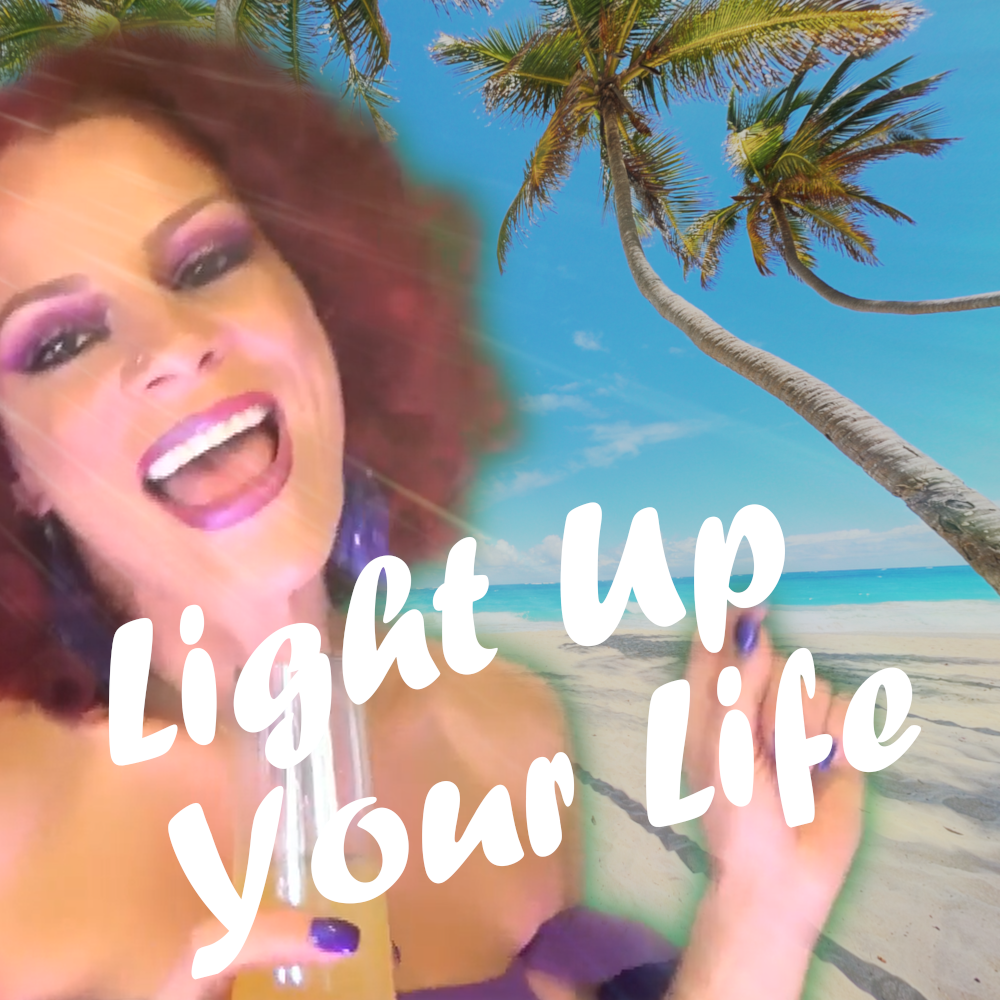 Described as "The catchiest song since Happy by Pharrell Williams" Light Up Your Life is the brilliant follow up single featuring Ainsley Dowell. (The last release Dreams Come True) This new Reggae style song featuring Ainsley on vocals (see video below} is by project band Hashtag Brilliant, composed and produced by AJ Grain, vocal arrangements by Ainsley, who is also manager and Anni-Fred in Abba Tribute Band Chique Abba Tribute.
Available to buy or stream on all media platforms. Spotify – Apple and all others
The Back Story In Brief
The song started life, like so many do, as another silly love song and basic short demo in a slightly different form and style. But not happy with some of the lyrics, it was left for another day to develop further. That day came many, Many, MANY years later under a very different combined set of circumstances and a mysterious event, as yet still unexplained.
Coincidence, Fate & Mystery
The pandemic caused much distress to many people, one person in particular described in despair,to the composer the moment lockdown had been extended as if "the last light at the end of tunnel had died out".
Very distressed to hear this, the composer, who was by coincidence developing the music of the old song, made it priority to complete it.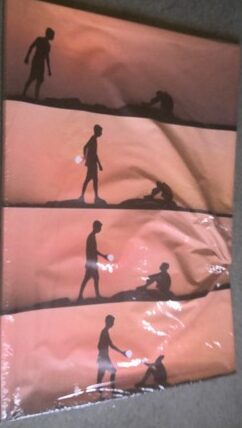 Again completely by coincidence a large (and broken) canvas was delivered to the composers house in a tatty box of two figures, one offering a ray of light to the other in need of hope. This is where the mystery comes in. No such (or any) canvas had been ordered. It just turned up with no explanation, and the delivery driver scurried away before any questions could be asked (as they tend too). The mystery remains.
Ainsley described it as another unsolved mystery of the infamous and mysterious Medway Triangle! (its a BIG triangle).
Both incidents seemed connected by fate, and were enough to inspire the full resurrection and direction for a dual meaning to the song.
Song & Video Production
On completion of a basic demo, the song was sent down to Kent and offered to Ainsley Dowell, who "loved it" and immediately played it to her long time musical collaborator Perry who proclaimed it as "Highly commercial, The catchiest song since Happy by Pharrell Williams".
Ainsley set to work on developing the vocals and harmonies. The result was another staggering performance. In the meantime final developments were made to the backing tracks with the intention of producing an authentic 70s sounding reggae track using a deep bass, Hammond organs, Solina string machine synthesizer, chop guitar and drums including timbale. The vocals were added, and mixed. The result a brilliant vibrant poppy uplifting catchy, VERY CATCHY dance able song.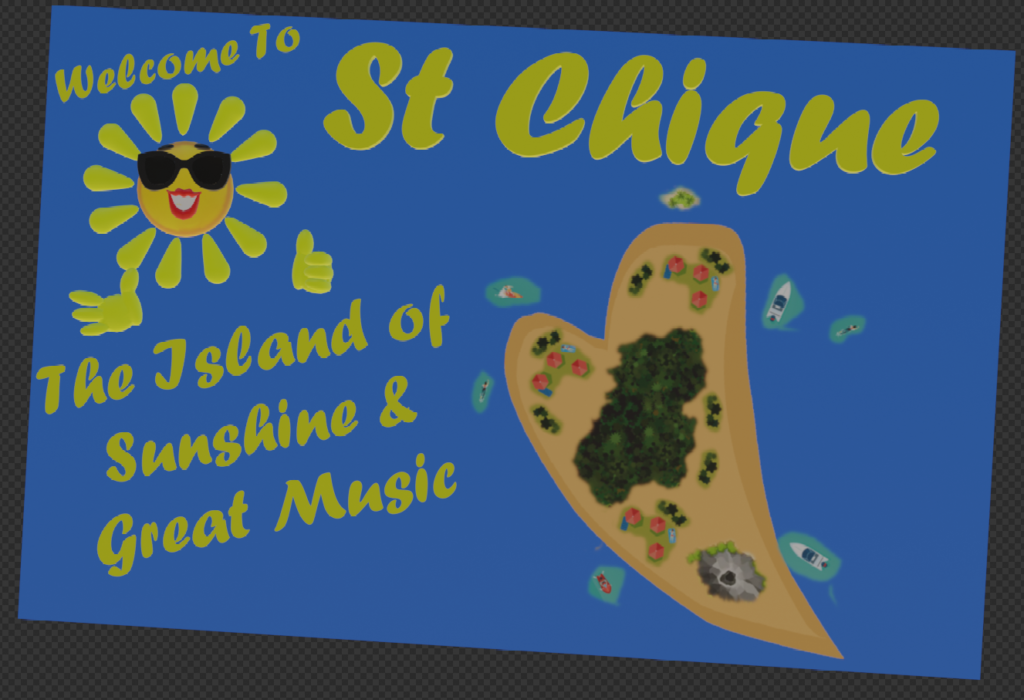 Next a video. The song, thanks to its sunny outlook, demanded an exotic location. Ainsley immediately packed her bags for the tropical Isle of St Chique situated in the Medway, the warm part! The islands mascot is Sunny Dee, who also plays a cool saxophone!
Ainsley helped co-produce the video with her choreographed multiplicity performance which is truly amazing and looks stunning., All set against the tropical backdrop and warm waters of St Chique (who's island shape bares a remarkable resemblance to the pendant she wears in the video). The island was once said to be inhabited the ancient Ainzdec tribe. So put your shades on, treat yourself to a long cool drink & mini magnum ice cream. get dancing and let a little sunshine in to your life.
Release Details
Light Up Your Life is released to co-inside with the changing of the clocks, lighter nights and warmer days. 27th March 2022.
For a FULL Press Pack, inc PDF, MP3, and HiRes images email press@tributeoflove.co.uk
Find out more about the artist(s) and creatives associated with the music HERE
About Ainsley & Chique ABBA Tribute
Established in 2009, – Chique ABBA tribute band (AKA ABBA Chique to their fans BAND WEBSITE ) have since become one of the most sought after tributes in the country, regularly performing sell-out shows all over the UK and abroad.
The Band were recently one of the headline acts at Cover Fest in Davos Switzerland, and have a busy calendar for the rest of 2022
Their version of Waterloo has recently surpassed 1 Million views on YouTube and is still attracting the masses of ABBA fans.
Made up of pro musicians with a wealth of experience in the business, the band pride themselves on their authentic ABBA sound and look, providing a professional, polished show – popular with all ages of audiences.
​All the glamour & glitz of a real ABBA concert, with stunning costumes, made with attention to detail of ABBA's original designs, and a powerful stage presence full of energy and fun, you'll feel as if you were back in the 1970s!
BAND DOCUMENTARY
The bands own documentary is a fascinating look behind the glitz and glamour of being in a tribute band (see video). Features some real "behind the scenes" action. So captivating, its becoming one their most popular videos. It will take you on an emotional journey. The video is skillfully edited by Ainsley. An absolute MUST watch.
Pele's Tears
During lockdown, the band's Frida & Bjorn got busy writing and producing their own original music.
Their own independent new venture, Pele's Tears, is a refreshingly different musical outlet, with a debut single – Colt 45 – out now. The band are currently unsigned.
You can follow Pele's Tears on Facebook and Youtube. Please like and subscribe.
THE LABEL
Tribute of Love is the label set up to produce original music using the very best tribute artists tributing various icons and styles of music and film. Expect more releases in the coming weeks.
ENJOY